How It Works
1.
Take Our Style Quiz
It's fun, easy, and it's all about you
2.
Get Your Picks
Receive your own personalized Showroom
3.
Shop Your Heart Out!
Hundreds of styles, new arrivals each month
What's Your Shoe Style?

▸
2 Ways to Shop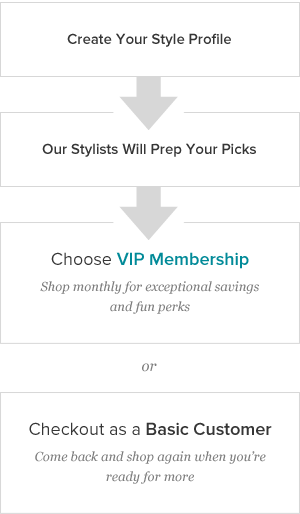 Get Started

▸
For $3995 a Month:
Spend it or save it. Cancel anytime.
Up to
25% Off

Retail Prices
---
VIP

Shipping & exchanges*

Free shipping on orders over 39*. Free exchanges.
---
Members-only
benefits
Get access to exclusive sales, previews, and events.
How It Works
RECEIVE A PERSONALIZED SHOWROOM EACH MONTH
Visit your Showroom between the 1st and 5th of each month to shop your new selections, priced as low as $39.95.
SKIP ANY MONTH
If you are not ready to make your purchase, simply Skip the Month by the 5th and your credit card will not be charged. If no action is taken between the 1st and the 5th of each month, your credit card will be charged $39.95 for a member credit on the 6th until you cancel. Skip as many months as you want and spend your credit on something you love or save it for later!
Cancel Anytime
You may cancel your VIP Membership at any time by calling 1-888-508-1888:
available 24 hours a day, 7 days a week.
How To Sign Up
Click the VIP box at checkout.
I'm ready to become a VIP and get 50% off my first item!
Let's Go

▸